A few weeks back, a buddy of mine texted me asking if I had been to
Mara's Homemade
yet. Not only had I never been there, but I had never even heard of it. A former NYC hotspot that moved out to the Island, serving New Orleans-style grub and Arkansas Barbecue? Sign me up!
We stopped by there two weekends ago for a drink at the bar and to have a couple of appetizers. We settled on a Bloody Maria made with jalepeno-infused tequila, something called a Crawfish Cheese Cake and some fried pickles. The Crawfish Cheese Cake was like a souffle with cheese, crawfish tails and Andouille sausage. Everything was delish!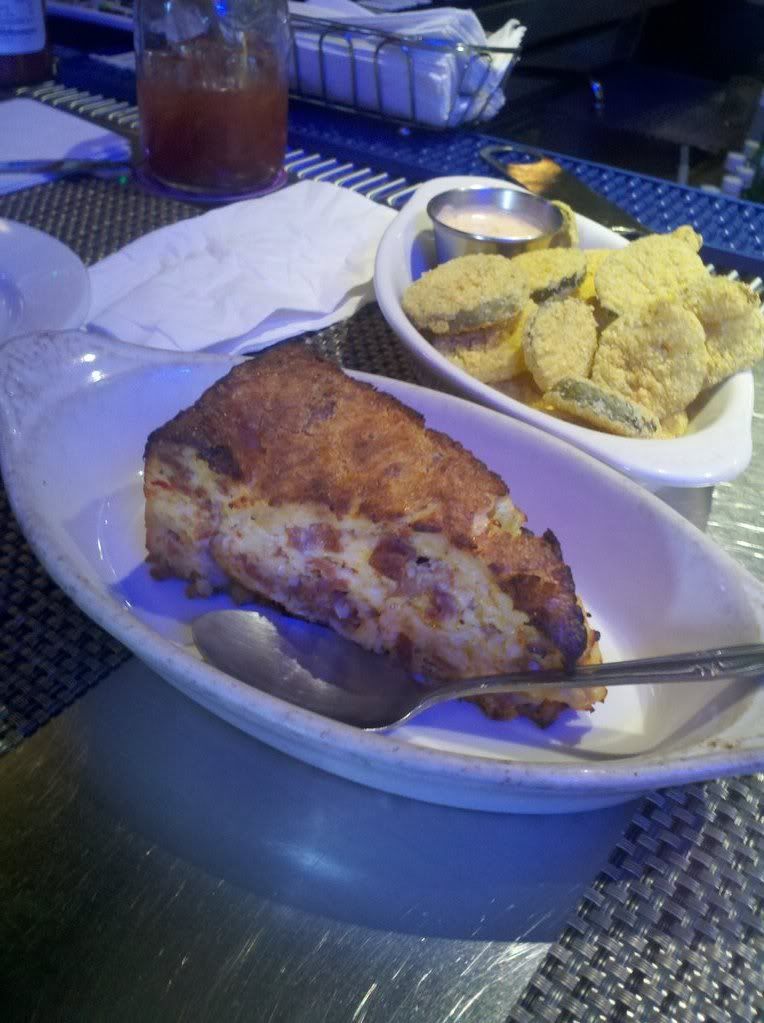 Crawfish Cheesecake, fried pickles and a Bloody Maria
That experience was so satisfying, we knew we had to go back for a full meal. Something we did this past weekend. And it didn't disappoint. We started off with another Bloody Maria (
it was sooooo good the first time around
) and a Cajun martini made with tobasco and gin. Both were excellent. The spice on the rim of the Cajun martini, something I usually don't go for, was a nice addition.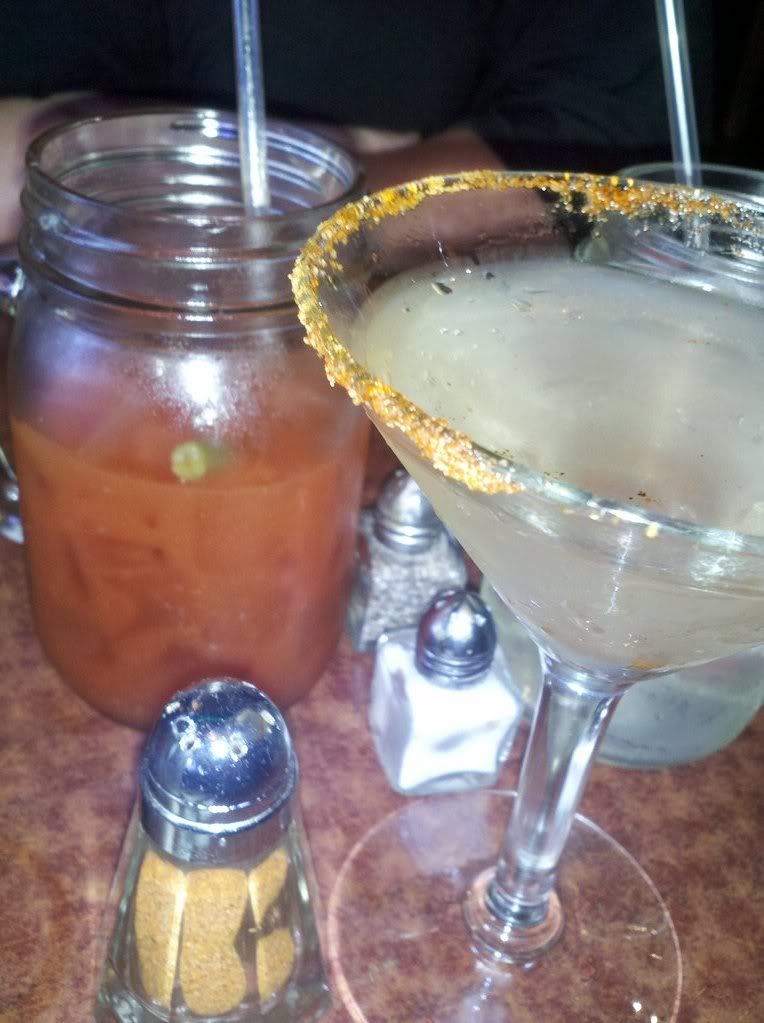 Bloody Maria and Cajun Martini
For our round of appetizers, we settled on something called Crawfish Stuffed Bread, some fried green tomatoes and a 1/4 rack of their dry-rub ribs. The Crawfish Bread was a hollowed out piece of crusty French Bread filled with a delicious mixture of cheese, crawfish tails and spices. It was so good, I'm thinking it would've made a fine meal all in itself. The fried green tomatoes were some of the very best I've ever had, and I'm obsessed with finding the best fried green tomatoes. You didn't even need any of the Remoulade sauce they served with it. And we were dying to try the barbecue, so we had a little taste with the dry-rub smoked ribs, which were moist and excellent. Fell right off the bone. All the appetizers were outstanding!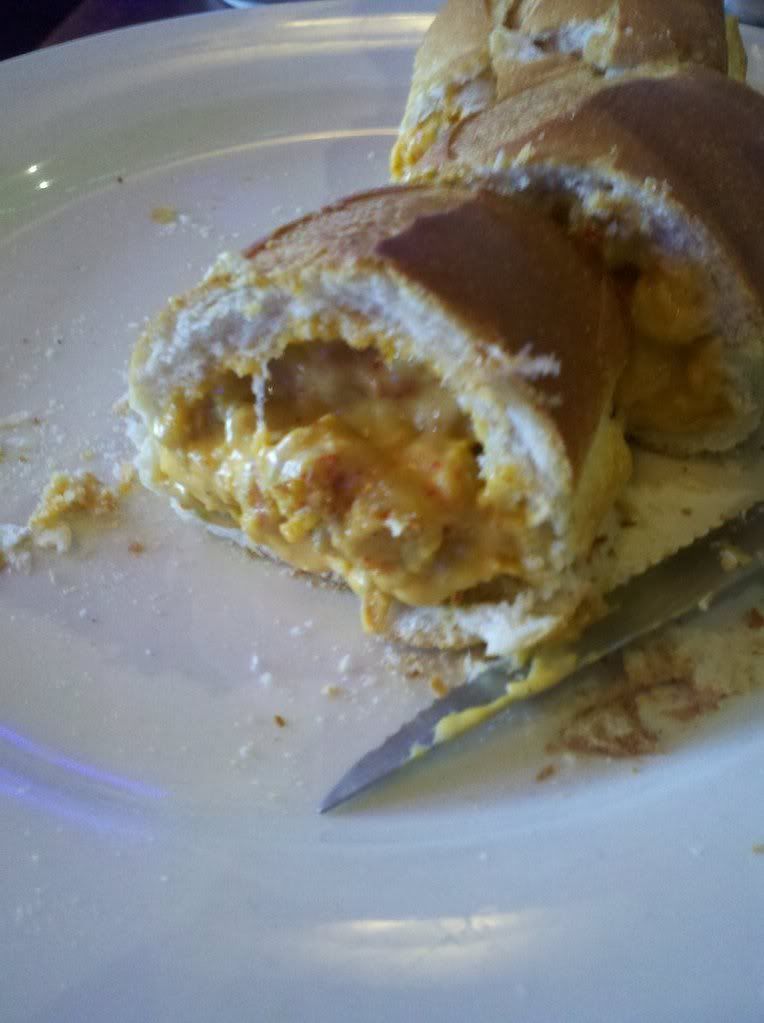 Crawfish Stuffed Bread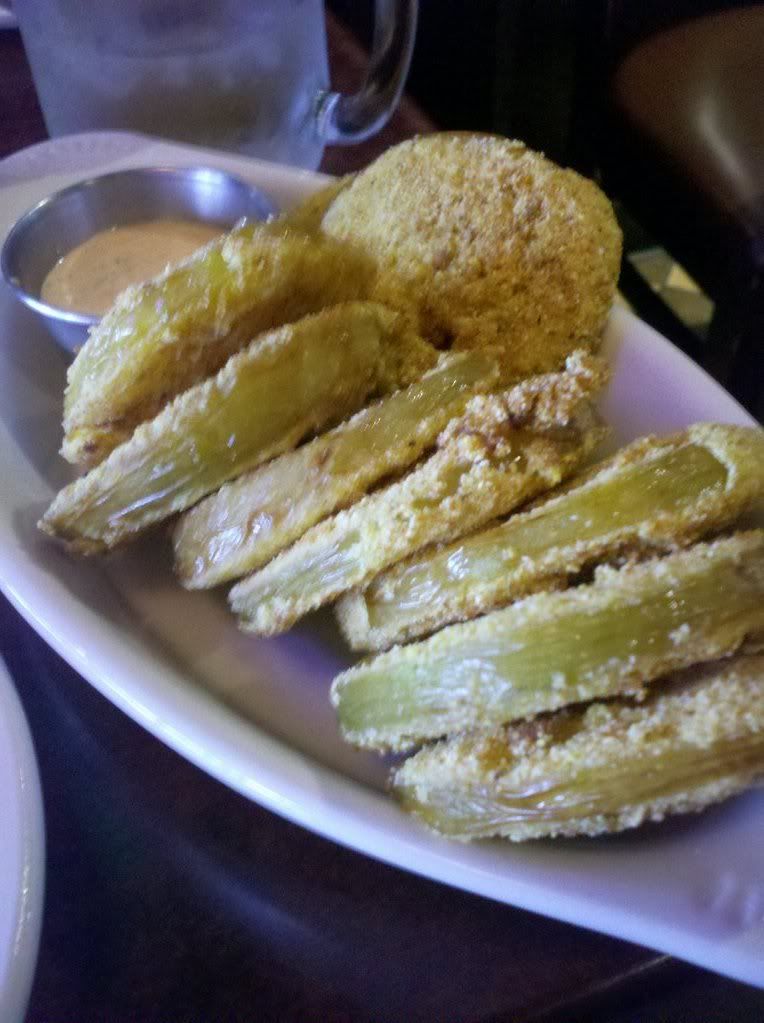 Fried Green Tomatoes
Smoked dry-rub ribs...Arkansas-style!
For our entrees, Gia went with one of the specials...fried catfish served with a cheese sauce smothered in crawfish tails and shrimp and a side of collared greens. I went with a serving of Crawfish Etoufee (
actually a large side dish
) with a side of Smoked Levi Beans. Both were big hits with us. The cheese sauce on the catfish was actually much lighter than we expected but full of flavor, and the collared greens were cooked just right. The Crawfish Etoufee was hot, spicy and wonderful, as were the smoked beans.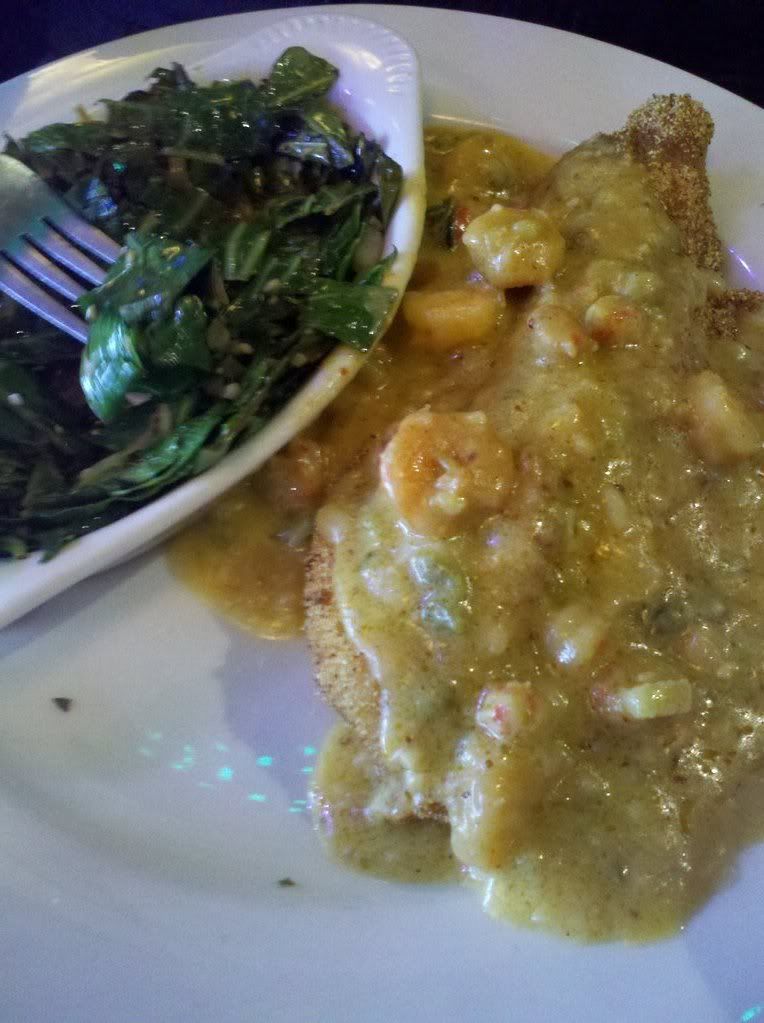 Fried catfish in a cheese sauce with crawfish and shrimp and collared greens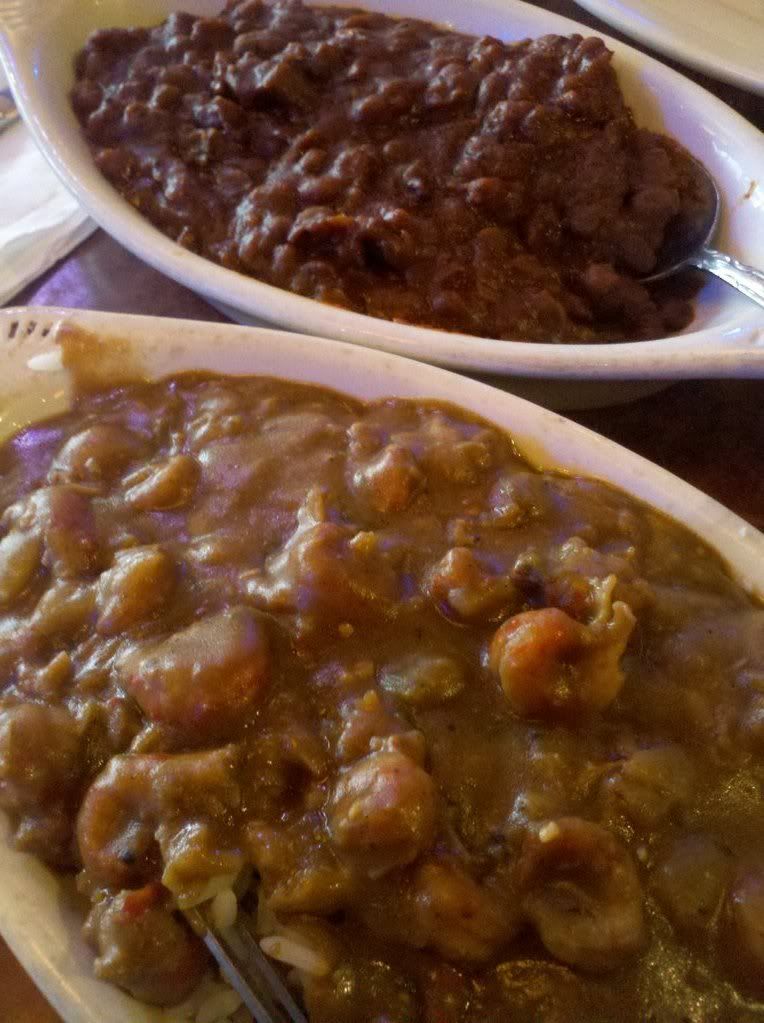 Crawfish Etoufee (foreground) and smoked Levi beans
We were pretty damn full at this point, but we had to try some dessert as well as some after-dinner drinks. We went with the Chocolate Pecan Cake, a Bulleit bourbon on the rocks for Gia and a Sazarac made with absinthe and apricot-infused bourbon for me. Perfect ending for the meal. I also accidentally ordered some beignets, but I was too full to eat them so we had them bagged to take home. I didn't get a picture of them, but they were delicious!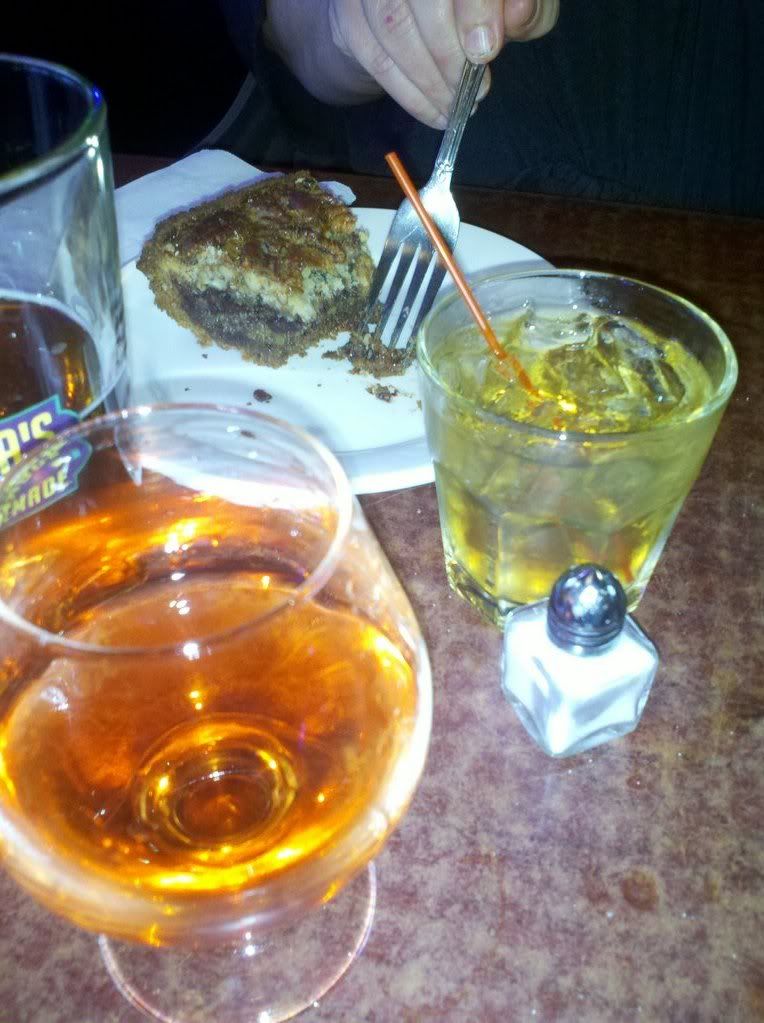 Sazarac (foreground), Bulleit on the rocks, Chocolate Pecan Cake
All in all, it was a wonderful meal. And the wait-staff and owners were all really nice people. If there were any negatives it was that the food was so rich we didn't feel like eating for the rest of the weekend. That and the menu has too many choices. You find yourself wanted to order one of everything. Then they add the specials on top of that and it's appetite overload.
Next time we go, we are going to orders strictly from the
Arkansas BBQ menu
. The link on their site calls it a cross between Texas and Memphis-style barbecue. If the smoked ribs were any indication, then we can't go wrong.
If you are ever in Syosset, NY area you should
check it out
. Highest possible recommendation!